Mural by Mike Sekletar and B.Goodwin (201 W 5th street, Lorain, Ohio). Photo by Roger Brownson
The Lorain Proud moniker emerged organically from a series of community charrettes held by the Lorain Historical Society, Lorain County Community College, Lorain Public Library System, the Morning Journal and United Way of Greater Lorain County in the spring of 2017.  These charrettes culminated in a celebration event at the Lorain Palace Theater and the movement was born!
Lorain Proud has grown into a grassroots community movement with the expressed goal of making the narrative of Lorain one of community pride, patronage, and service. Citizens don't join Lorain Proud, they are Lorain Proud!
We encourage any and all community members, leaders, or organizations to use the social media hashtag #LorainProud to spread community pride and to showcase how they are working to make Lorain a better place, and to invite others to join them.
Started in 2018 it's a temporary demonstration of what the best block in the City of Lorain could look like. See you on May 18th, Saturday!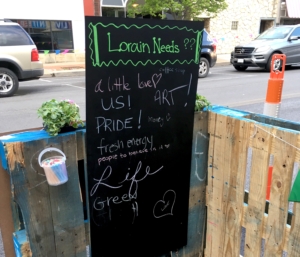 You still have 3 more chances to see the hilarious production of The Producers, the Mel Brooks laugh-out-loud musical spectacle on July 19th & 20th at 7:30 pm and July 21st at 2:00 pm at the Lorain Performing Arts Center (2600 Ashland Ave., Lorain). The Producers, the most Tony Award winning musical of all time, skewers Broadway traditions and takes no prisoners, as it proudly proclaims itself an "equal opportunity offender!" Tickets available online @
app.arts-people.com/index.php?ticketing=lcmt or by emailing your phone number to lcmtshows@gmail.com and we will call you to place the order.
#LCMT2019TheProducers ... See MoreSee Less
#LorainProud ... See MoreSee Less
#LorainProud ... See MoreSee Less
LORAIN — One recent Lorain High School graduate isn't worrying how to pay for college anymore, thanks to a generous donation from a Northeast Ohio celebrity. Jaiden Morales, 17, was one of eight i...
"

Citizens don't join Lorain Proud, they are Lorain Proud!

"