Mural by Mike Sekletar and B.Goodwin (201 W 5th street, Lorain, Ohio). Photo by Roger Brownson
The Lorain Proud moniker emerged organically from a series of community charrettes held by the Lorain Historical Society, Lorain County Community College, Lorain Public Library System, the Morning Journal and United Way of Greater Lorain County in the spring of 2017.  These charrettes culminated in a celebration event at the Lorain Palace Theater and the movement was born!
Lorain Proud has grown into a grassroots community movement with the expressed goal of making the narrative of Lorain one of community pride, patronage, and service. Citizens don't join Lorain Proud, they are Lorain Proud!
We encourage any and all community members, leaders, or organizations to use the social media hashtag #LorainProud to spread community pride and to showcase how they are working to make Lorain a better place, and to invite others to join them.
Started in 2018 it's a temporary demonstration of what the best block in the City of Lorain could look like. See you on May 18th, Saturday!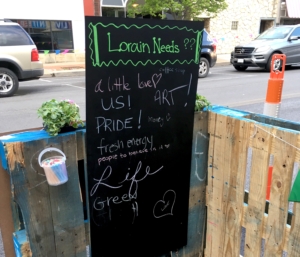 Time to sit back and enjoy the movement but still so much to do. Time to do the next right thing 😏. December 7, support what's happening on the south side of lorain. Christmas event this Saturday Rey Carrion #getinvolved #never2late #lorainproud
youtu.be/5jpL_g4PPrcReal change is on the horizon for Lorain. The goal? Make it a destination. ... See MoreSee Less
Pedro Pete Natal added a new photo to Lorain Proud's timeline.
2 days ago
The Office of Building, Housing, and Planning in the City of Lorain needs your help! Please take 4-6 minutes to fill out this important survey to help guide initiatives over the next 5 years, and beyond as we create a Consolidated Plan.

The Consolidated Plan helps the City of Lorain assess affordable housing and community development needs to ensure decisions are data based and in accordance with the needs of the community.

This survey will outline major concerns and priorities regarding various activities such as, but not limited to: housing activities; fair housing; homeless services; public/social services; and community and economic development activities. This survey will also help us improve our communication efforts with the City of Lorain's citizens as well. (Please email me at drew_crawford@cityoflorain.org if you have any questions)

... See MoreSee Less
"

Citizens don't join Lorain Proud, they are Lorain Proud!

"