It's a New Day for Lorain
By Brandon J. Wysocki
Anchored by a renovated hotel and revitalized by a new streetscape, downtown Broadway is experiencing exciting things. Downtown has always had some gems – The Palace Theater and The 530 Shop stand out to me – but recently, there has been a growing momentum. In the nearly 35 years that Lorain has been my home, I cannot recall anywhere near this many delightful options to eat, drink, shop, or entertain yourself downtown.
Let's be clear, though. It's not just downtown. There are some big and beautiful ideas on the south side, not to mention a great selection of eateries, both old and new. And the east side has a marina under new management, the remodeled Harbor House at Century Park, and Lorain Community Senior Center that provides some fantastic activities and opportunities they are looking to expand.
On top of that, we have some spectacular groups doing awesome things in and for our community. While some, such as the Mexican Mutual Society, have served our city for decades, others are newer but are also doing great things. Groups like the LoCo Yaks with their annual Black River Clean-Up event are complemented perfectly by Project Freshwater and Quick Picks. Also noteworthy is a group called It Takes a Village that helps support our schools, students, and families.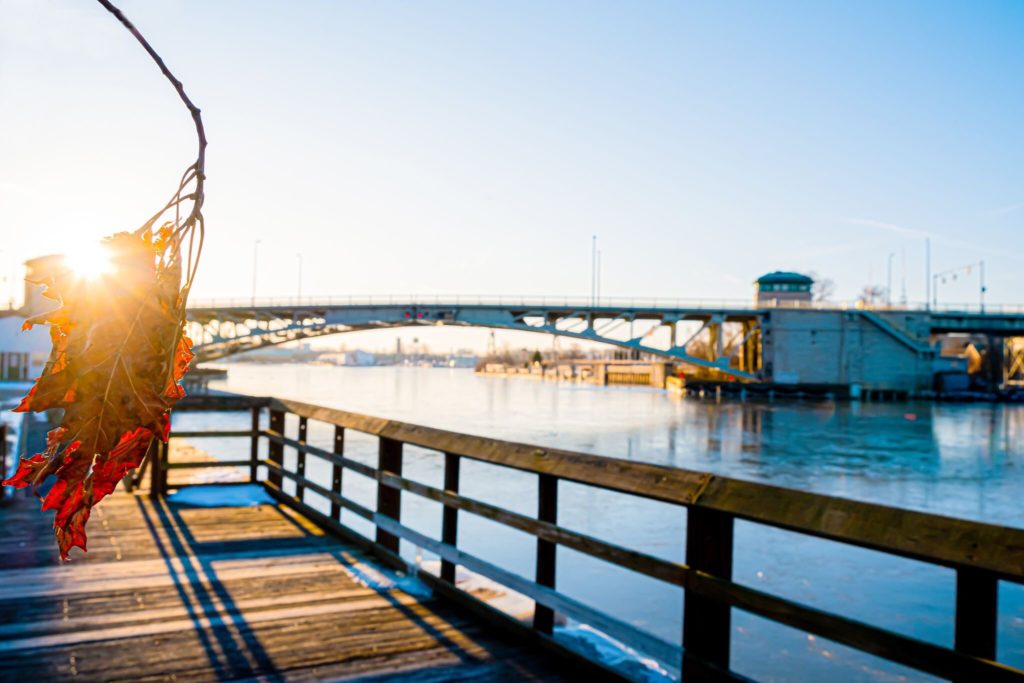 Like a beautiful sunrise, it's a new day for Lorain and one that is in our hands to make better.
Photograph by Jen Navarro, Navarro Photography
There are many other wants and needs in this incredible city, but that doesn't mean that the progress on other fronts cannot be supported and celebrated all the same. Indeed, what we are witnessing now could prove to be a catalyst, or at least the starting point, for positive change and improvement throughout this city.
Progress must start somewhere, even if it's not exactly what, when, or how one may have wanted or expected. Ultimately, the diverse and industrious people have always been the heart of Lorain, and that will always be true. The success of our downtown revitalization and the city as a whole is up to us. Concerns and criticisms are fair and even tremendously helpful, namely when presented and utilized constructively. However, in my experience, an unfavorable prognosis is often the first phase of a self-fulfilled prophecy much more than it is an inexorable truth.
The beautiful thing about an idea such as #LorainProud is that it's fluid and flexible. If you're not already in motion, you can take action so that you are. You can join or start a cause, support or work for an organization that represents you and your values, etc. In everyone and everything, there is always room for growth and improvement.
One of my favorite axioms is "The only constant is change." Change can be difficult in several ways, but we can't stop it. We can, however, help shape it. Lorain abounds with potential and wonderful people. The question I think we should all ask ourselves is, "What are we willing and able to do to help?"
Lorain is rising – if you don't believe it is, then what are you going to do to change that? No one person or group has all the answers or abilities, nor is there only one "right" direction, but everyone can play a critical part in being Lorain Proud.
---
We welcome you to join us in the Lorain Historical Society Millennial Group to share your ideas. We meet once a month. The next meeting will be held at the Lorain Historical Society on Thursday, March 12, at 6 pm followed by a Millennial Social on April 9th. We hope to see you there. Click the link below to learn more.